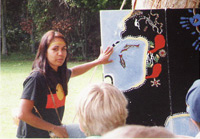 Our general cultural induction course has been developed to guide people to listen, look and learn, exploring our Arakwal cultural website to gain better understanding about us and our country.
Using a 'Moodle' based software program linked to our website, participants log-in and listen to audio, watch video and read from the website. Then you can answer questions to check whether you have understood our messages and protocols about being on Country; know a bit about who we are; what we are doing to care for country; and the sort of challenges we face today.
Our program has 5 sections:
(1) welcome to country  (2) our culture-our stories (3) binungal: stop look and listen                                       (4) looking after country (5) key issues we face today
We hope it is fun, that people learn some things, and pass the 'test' to become a more informed friend!                                      
Click here to login to the Cultural Induction Program
Typical participants of our Cultural Induction Program are:
(1) government agency staff and contractors; (2) Byron Shire council staff, contractors and volunteers; (3) community service organisations; (4) primary, secondary schools, tertiary and other learning organisations; and (4) general public including local people, those living outside our country, and visitors, tourists back-packers
Whilst this initial program is a general in nature it is designed so that in the future it can tailored for each grouping by:
 adding additional 'modules' or questions being provided for Program sections
being linked to activities on Country or through another website link eg. CBMP 'Sea Country' learning program.
For example those in Group (1) might be required to do this induction as part of starting their job in this area of the world, or as part of coming onto Country to work as a contractor.
They would need to log-in to do this general assessment, and maybe an extra section which has case studies that they have to review and give written answers online. This work would be checked by Arakwal representatives (as part of an agreed and resourced process). These participants then get an assessment result through their overall induction program/employment agreement.
The Induction Program can be part of an introduction before coming on Country and participating in the Dolphin Dreaming Program, whether as a public person (such as tourists/visitors/local people), or a school or some other organised group.