Palm Valley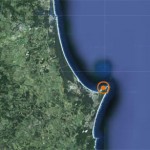 Currenba is located at The Pass a sheltered beach popular for picnicking, surfing and boating access to the Bay and beyond. It means 'gully' and refers to the natural water channels found in this forested area. Currenba is a significant place for us.

It was a special home base and meeting place for the Arakwal people and other tribes from the Bunjalung Nation. They camped in the beautiful Palm Valley and ate pipis, fish and other abundant sea tucker, which they caught at the Pass and Wategos inside the Bay.
The surviving midden and campsite at Palm Valley is the oldest of its type in the region, estimated to be approximately 1,500 years old.