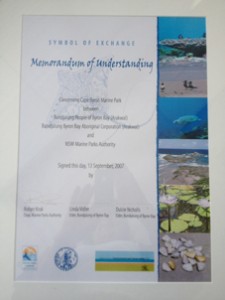 The NSW Government officially established the Cape Byron Marine Park in November, 2002.
The Arakwal People have been  negotiating with Cape Byron Marine Park regarding our right to access our waters. A consultative committee was established to further these negotiations. The Cultural Resource Usage Agreement was finalised and sent to the NPWS Minister for  consideration.
The election  of a new NSW Government in March, 2011, and the subsequent transfer of Marine Parks from NPWS to Department of Primary Industries & Fisheries has seen this proposed agreement sit idle with presently no surety as to when it will be finalised.
For more informatiuon on the Cape Byron Marine Park go to this external website link