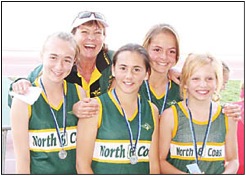 Our Arakwal mob live in our traditional lands and across Australia. Many Arakwal mob have natural gifted talent and  are really kicking Goals!! Our traditional country has a history of producing great talent and this continues in our next generation!!
In sport we play soccer, track, rugby, surfing, and even a bit of amateur boxing.
We are also doing great at school, modelling, arts, community ,environment and drama to name a few.
We enjoy and encourage our mob to dream and do the things in life you enjoy…
Check out the Byron High School Newsletter to read about some of our crew winning NSW State Championship Relay Team races and also academic competitions like the Australian National Chemistry Quiz. Here is the link ….