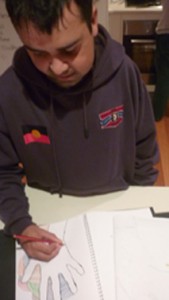 Corey is a Byron Bay Arakwal family member from the Minyungbul Coodjingburra (Fingal Heads, NSW) and Yuin  (Narooma, NSW) peoples. He is a coastal man who loves to go to the beach, poetry and singing. Corey likes to go fishing with his family, getting pippis on the beach, gathering mussels (bimbala) and oysters with his uncles and brothers.
"I love painting, cause I see the beautiful colours that can be created, like the colours of the rainbow.  My passions are to be loving and caring for everything on this earth.  I like to clean country by picking up rubbish around creeks and the river, excercising outdoors and saying hello to friends."
Corey's culture is in his painting, poetry, family connections and gathering from nature and his painting reflects this.
"When I draw my hand this represents coming together and helping people.  Other paintings are about my family and I like to paint boats, snakes, snails, and most recently dolphins and fish. The colours I use represent the colours of the rainbow and the energy within life."
Corey's artwork and post cards are available at the Cape Gallery Shop and supports people working with a disability.
Spirit Hand Healing Togetherness