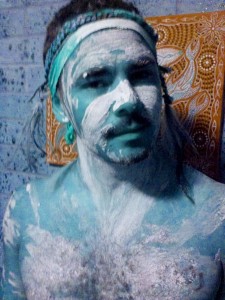 An Arakwal Family Member Nigel Stewart comes from the Minyungbul Coodjingburra (Fingal Heads) and the Yuin People (Narooma, South Coast NSW).  Nigel is an artist and dancer, and plays didjeredoo. He has knowledge of bush tucker and is learning to speak Bundjalung language.
"I think it is vital in our connection to country and we must learn it and speak it to keep the Bundjalung Language alive and strong to hand down to the next generation. It's very important to know the language names of country as the names given tell a story.
Nigel has learnt from his elders and friends as well as attending Worawa Aboriginal College in Victoria after leaving high school. He works as a Ranger in Arakwal National Park Byron Bay, putting his knowledge and passion to work caring for Country. Always a coastal person, he enjoys living off oysters, mud crab, pippis, prawns, abalone, lobster, mussels and fish.
"I have been very lucky that the Arakwal Bundjalung elders have passed down their knowledge about the special places and places of plenty. All the bush tucker that I have learnt is from them, so I give my upmost respect to my elders for sharing and passing this culture to the younger generation. All other knowledge is from the ocean, most I have learnt from my father as he is a hunter and gatherer from the Yuin people. My father was taught this by his father and our links are very strong. We have a plentiful, healthy lifestyle growing up near the ocean. My nan and uncles showed me things like how to get pippis in the sand, good places to gather oysters and indicators of fish in the water. It is so important to spend this time with your family and elders to learn."
Dancer
'Aboriginal dancing is one of my most favourite parts of culture, to me it brings together our ancient past from our ancestors to the present. It also shows that our culture is still alive and continual.  When we dance the feeling of our people coming together is overwhelming.  We learn the importance of our native animals, our song-lines/gatherings and our language.'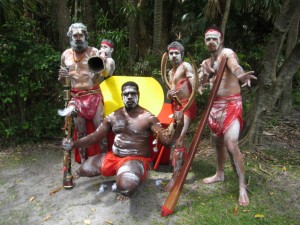 Our dance group here in the Tweed/Byron Bay area is called Bigal Nali Jagun which means 'Men coming together representing country'. We  offer a welcome to Bundjalung country consisting of 30 minute to an hour show. This includes:
welcome introduction and dance
introduction of Bundjalung and some of our language
6 – 7 dances
didjeridoo demonstration and information
audience participation
education resources and Aboriginal heritage and history
sacred country and significance to our people
group photos
the group also offer Aboriginal art workshops
Didjeridoo Player
Interested in playing didge from a young age friends at the inspiring Worawa Aboriginal College that played in their home country, Yirrkala and Alice Springs in the Northern Territory, helped Nigel along."My friend, David Wirrapunda, gave me pointers on how to play with better rythme, which has helped me now in Bundjalung country with the Aboriginal Men's dance group that I perform with." 
Artist
"Painting helps me relax and think about our country and all the beautiful animals that we are connected to, the end result of my art is productive and is part of my culture. Favourite things to paint are coastal paintings with dolphin, turtle, stingray, whale and all the other things that relate. Other paintings I like to do are around the heath lands consisting of echidnas, goannas, snakes and water holes."
Kinship Lifecycle
The Dolphin is a sacred mammal of the sea. They are very much like us, they suckle their young and look after and teach their children whilst having fun (most of the time), they travel in groups and also have their own male and female roles.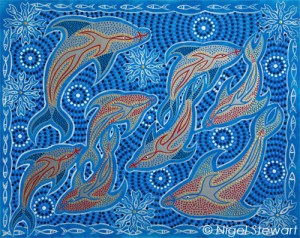 The dolphin is very important to Aboriginal people in many coastal tribes; including the Arakwal clan. It is highly significant as the totem of the Arakwal women who share a strong ancestral connection with dolphins.
The 2 big dolphins on each side of the painting represent the elders of the tribe, and the smaller dolphins in the middle represent the younger generations and their lifecycle. The 2 elder dolphins are watching over the younger dolphins guiding, teaching, nurturing and loving them as they progress through their life journey. Notice that there are 2 different colours on the dolphins. This represents the different tribes, and in the middle these 2 tribes come together to make 1 big tribe (ngullingnah = together).
Our elders would always make sure that we never married into the same tribe so this is represented in this painting also. In Aboriginal Culture, Kinship is a very important part of life, if you lose someone who is your guardian or parent, your Uncles or Aunties take responsibility for you, they become your guardian or parent and your cousins then become your brothers and sisters.
The dot circles in this painting represent the water which is the life of all Earth, a major component (elixir) of every living thing on the Earth and it must be kept clean. Without water nothing can survive. The fish (Jalum) are very important also as this is the food source for the dolphin. Just like them we need food to survive and fish is a major component of our diet, its all part of the same food chain. The spirit inside wadjung, the dolphin, shows that human and dolphin through Aboriginal connection are one in the same – we look after them and they look after us. Its all part of the respect we have for our beautiful country and the species that have been here since the dreamtime.
Drawings by Nigel Stewart were created using ink on paper. Each work measures 210 x 300mm.
Dolphin (wudjung) x-ray style

Echidna (Bunich) Trail

Face with artefact symbols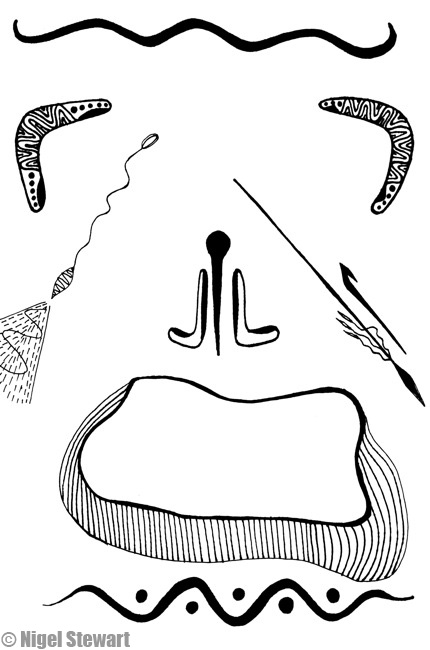 Family protectors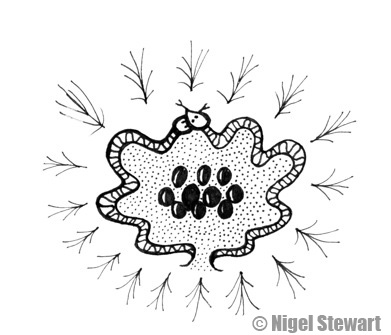 Historical midden—Timeline
Goanna walkabout (Ngumarl Yunbalarla)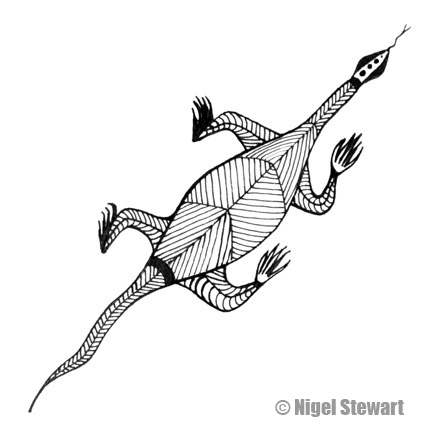 Turtle Lifecycle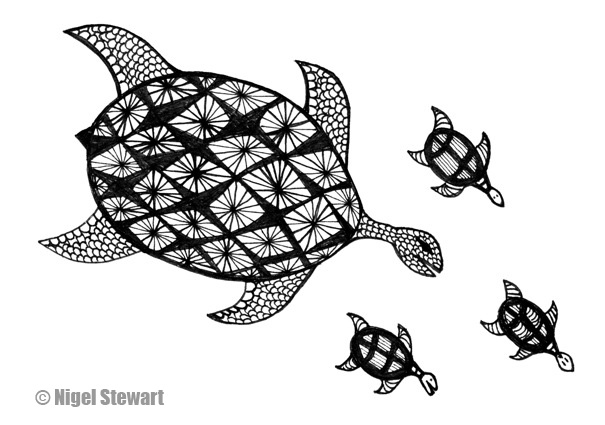 Snake Breeding Season