Led by our guides from the Arakwal Aboriginal Cooperation, participants engage in a tour and activities relating to bush food. Traditional and contemporary indigenous food technology, preparation and nutrition are examined and discussed.
Participants have the opportunity to taste bush tucker and campfire food, learn about traditional bush medicine and listen to stories from the Arakwal tradition.

What's it about?
The aim of Bush Tucker/Bush Stories is for program participants to achieve a deeper cultural awareness about Arakwal natural resources and their use.
Bush Tucker/Bush Stories is an experiential program, in Arakwal Country, led by an experienced Arakwal guide where participants have the opportunity to learn about bush food, indigenous and non-indigenous plant use, the nature of seasonal foods, native food technologies (past to present) and food in Australia.
Who's it for?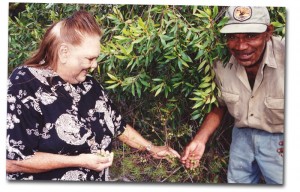 Bush Tucker/Bush Stories is a program for everyone. It is run as a program for our own mob, school groups, corporate groups and business professionals and the wider community. We tailor our program to meet the needs of the participating group and to meet the intended learning outcomes of the cultural phases associated with the group.
What's in it?
Bush Tucker/Bush Stories is a two-hour program held in Country, located at The Pass in Byron Bay with its abundant bush foods, sheltered area, proximity to the ocean, cooking facilities and also a Midden site. This program includes provision of a post visit resources and reading list. The program includes participant involvement in learning:
Damper cooking
Bush food identification and taste testing
Bush regeneration principles
Arakwal peoples' perspectives, understanding and experience of the Cape Byron bush environment
How bush foods are used traditionally and in contemporary Australia
Aboriginal cultural perspectives on plants and animals in the Cape Byron Area
Click here to open resources for Place of Plenty
Click here to go to our Events Calendar to see when the next organised program is running.
Click here to make a booking or to organise a Bush Tucker/Bush Stories Day.