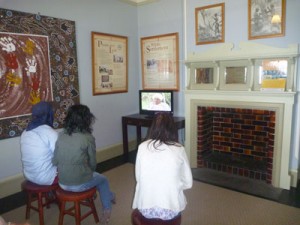 The Cape Byron Information Centre (Cape Gallery) is located at the Cape Byron Lighthouse on Walgun. Boasting spectacular views the Cape Gallery is an information centre, gallery and shop operated by Arakwal National Park. In our cultural resource room you can learn about Arakwal cultural information from publications and information boards like:
People & Land  * White Settlement  * Place of Plenty     * In the Beginning  * Life Today * Special Places
the Bundjalung of Byron Bay Indigenous                   Land Use Agreements
watching the film, Walking With My Sisters.
Come and see us at the gift shop where we offer publications, artwork and other gifts. Cape Byron Lighthouse, Lighthouse Road, Byron Bay. Open 9:30am-4:30pm 7 days a week (closed Christmas Day).
Click here to view some of the products available at the Cape Byron Gallery.