In traditional times our people have always gathered to celebrate or to arrange community business. Whilst these times have changed, gathering as a mob still plays a vital role in our family and community. Community support programs play important roles in building and supporting our community, and linking us with the wider community.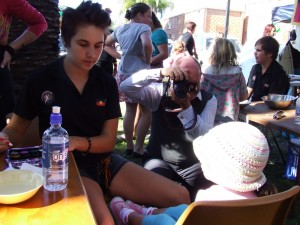 We hold Specific Arakwal Days called Back to Country Days.
Many of our friends work with Arakwal in organising programs and events that bring together our mob and the wider community. These events prove to be beneficial in creating harmony as well as educating the broader community on the Arakwal perspective on history or issues.
Back to Country Days are designed to bring our Mob together for a specific purpose, be it cultural or family oriented. These programs continue to enable the community growth of our Mob and the exchanging of knowledge all in a healthy, relaxed and fun environment.
We also have many friends, community groups, and Government agencies who work closely with and support Arakwal.
Some of these groups are:
Sisters of Reconcilliation
Cavanbah Reconciliation group
Byron Shire Council
National Parks and Wildlife Service
Flicker fest
Island Quarry
Cape Byron Marine Park
Byron Community Centre
Byron Youth Activity Services
Surfing Far North Coast
North Coast Bluesfest
Our regular events each year include:
Survival  Day – January
Sorry Day and Reconciliation Week – May
NAIDOC Week – July
One-off special events are also organised such as:
Every year we play a role in conjunction with NSW Seniors Week. In 2011 a  special event  was the elders gathering at Walgun (Cape Byron Lighthouse) during Seniors week. See the photos here – it was really enjoyable and a great success.