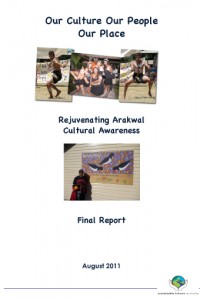 This report presents the results of research and liaison work related to reviewing our existing cultural awareness programs. Its from this work that we got this website going and have developed it further!
The work was carried out by Sustainable Futures Australia (SFA), supported by the Arakwal Cultural Awareness Project Working Group (ACAPWG),which was established as part of the project. This group included representatives of the Arakwal community and Arakwal Aboriginal Corporation (AAC); Cape Byron Marine Park Authority (CBMPA); Cape Byron Conservation Reserve/National Parks & Wildlife Service (NPWS); and Sustainable Futures Australia. It continues to be a really positive relationship working together.
The report provides recommendations and next steps for us to develop an improved and integrated Arakwal Cultural Awareness Program (CAP) for our own people and the wider community,  including:
• the Cultural Awareness Working Group to keep supporting ongoing development, implementation, support for, and review of the CAP.
• updating and improving existing cultural awareness programs, including suggested changes and inclusions made in the report.
• developing new activities and events that help connect people to Country and increase awareness about Arakwal culture.
• integrating activities and programs into an annual events calendar with seasonal-themed events that encompass cultural activities and help get people back onto Country and into their culture.
• establishing a strong website presence to assist in connecting people and providing a platform for cultural information, learning and awareness
• preparing a strategic plan including prioritised strategies and actions.